2020 brought a wave of change to Medicare. While the changes to Plan F offerings made the most headlines, 2020 also ushered in a new plan: the High Deductible Plan G.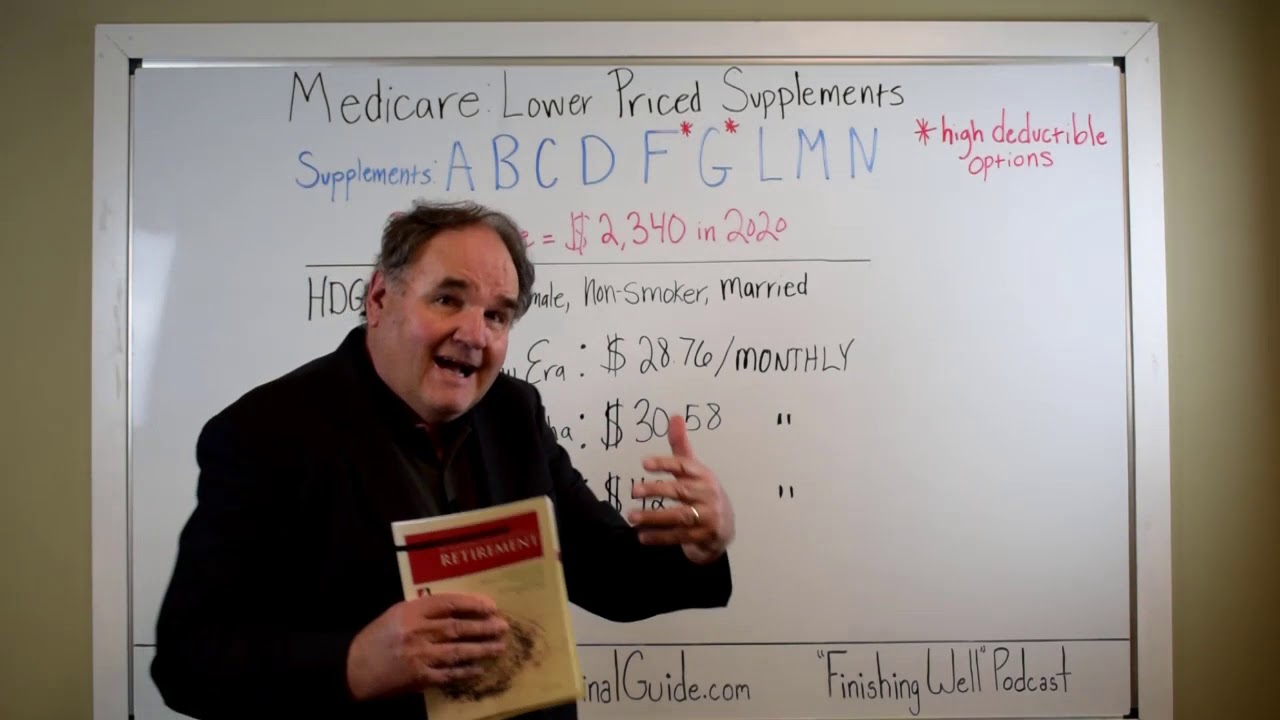 Medicare: Lower Priced Supplements
Medicare: Lower Priced Supplements
Changes to Medicare in 2020
With the passage of MACRA in 2015, the biggest change to new Medicare beneficiaries is the removal of the option to choose Medicare supplements that cover the Part B deductible. The three plans that cover this are the Plan F, the High Deductible Plan F, and the Plan C.
This change ONLY applies to those who were not eligible for Medicare before January 1, 2020. Anyone who currently has one of these plans or was eligible for Medicare before 1/1/2020 will see no changes in this regard. You can keep your Plan F or even switch to a Plan F later, they are NOT going away.
For beneficiaries who are newly eligible for Medicare on or after January 1, 2020, these 3 plans will not be available.
In Massachusetts, Minnesota, and Wisconsin, the changes will be a little different because these states do not have the same standardized Medicare supplement options. Newly eligible Medicare beneficiaries as of 1/1/2020 will still not be able to buy any plans or riders that cover the Part B deductible.
How do High Deductible Medicare Supplement Plans work?
High deductible plans require the consumer pay a large deductible before the plan begins to pay. Once this deductible is met, the plan pays 100% of covered services for the rest of the calendar year.
In 2020, the deductible for High Deductible Medicare supplements is $2,340. This applies to both the High Deductible Plan G and High Deductible Plan F. This usually increases by a small amount every year.
Once your out of pocket expenses reach this amount, your Medicare supplement will pay all your Medicare approved expenses. You should have no more medical bills.
For example, say you started a High Deductible plan in 2020. You had a hospital stay in the first part of the year and you had to pay the Medicare Part A deductible ($1,408 in 2020). That money applies toward your supplement deductible, so you have $932 left to pay.
Original Medicare will still pay its 80% portion of Medicare approved services with a High Deductible supplement and you will pay the other 20% until you satisfy the $2,340 deductible.
After your hospital visit, you have a few doctor's visits, and after paying your 20% coinsurance amount, you hit $2,340. After that, any doctor's visits, hospital stays, or approved Medical expenses will be paid for by your supplement for the rest of the calendar year.
Many people do not reach the deductible every year. If that happens, you just reset for the following year.
High Deductible Plan G Coverage
With the removal of the High Deductible Plan F for new Medicare beneficiaries in 2020 and beyond, the High Deductible Plan G was added as a new option.
The only difference between Plan F and Plan G is the Part B deductible. If you have a Plan G, once you pay this $198 deductible, your Plan G becomes identical to the Plan F. It pays all the bills for you, with no copays or coinsurance costs.
For most people, the Plan G is a better deal since the monthly premiums are lower than a Plan F. Even with paying the Part B deductible, Plan G is the best value. You can run your own price quotes here to find out if this would work for you.
The same differences apply between the High Deductible Plan F and the High Deductible Plan G. The Part B deductible is the only variant between the two.
With a High Deductible Plan G, the $198 Part B deductible is going to apply towards your yearly plan deductible. After you satisfy the high deductible, your High Deductible Plan G will cover everything listed:
Medicare Part A deductible, coinsurance, & hospital costs

Medicare Part B Coinsurance, co-payment, & excess charges

Preventative Care Part B Coinsurance

Blood (First 3 pints)

Basic doctor visits

Foreign Travel Emergency expenses

Skilled nursing facility coinsurance

Durable medical equipment (DME), blood transfusions, lab work, X-rays, surgeries, ambulance rides, etc
The only difference in this list and the list for the Plan F and High Deductible Plan F is coverage for the Medicare Part B deductible.
Who are high-deductible Medicare plans good for?
High deductible Medicare plans can work great for people who can easily afford the $2,340 annual deductible if they have a bad year and wish to substantially save on their Medicare supplement premiums. If you are paying over $250 a month, you could actually save money by going the high deductible route.
For example, let's say an 80-year-old male is paying $260 monthly for his Plan G. In the same area, a High Deductible Plan G has a premium of $55 monthly.
| | | |
| --- | --- | --- |
| | Plan G | High Deductible Plan G |
| Monthly Premium | $260 | $55 |
| Yearly Deductible | $198 | $2,340 |
| Yearly Costs | $3318 | $3000 |
As you can see, if you do the math, for certain people, a High Deductible supplement, even if you have to pay the full yearly deductible, can come out a better deal.
This is especially relevant if you have some health issues. When you switch Medicare supplement plans, you do have to answer health questions. Some companies who have easier heath questions, but who are not priced competitively for regular Plan F and Plan Gs, are priced competitively for the High Deductible options.
It is also good for people who are healthy and absolutely do not want to pay the cost of a supplement. While we always believe that the coverage a Plan G provides is worth the cost,
if you are adamantly against paying $100-$200 a month for coverage, a High Deductible could be the route for you. This is especially true if you still want the freedom of choice that you do not get from the lower priced Medicare Advantage plans.
The most important lesson to take from this is to make sure you work with an insurance broker who represents many companies. They will be able to look at your financial situation as well as your preferences for coverage and find the best plan with the lowest priced company for you. It might be that you are one of the few people a High Deductible Medicare supplement plan works for!