Long term care refers to a broad range of services delivering assistance to individuals who cannot live independently. It does not just mean nursing home.
When making a long term care plan, it is important to not only look at the costs of services, but what is going to work best for your family. It is okay to make a plan that involves care in more than one long term care setting.
It is also smart to discuss your preferences, as well as insurance coverage, with your family members so that when the time comes they can make an informed decision.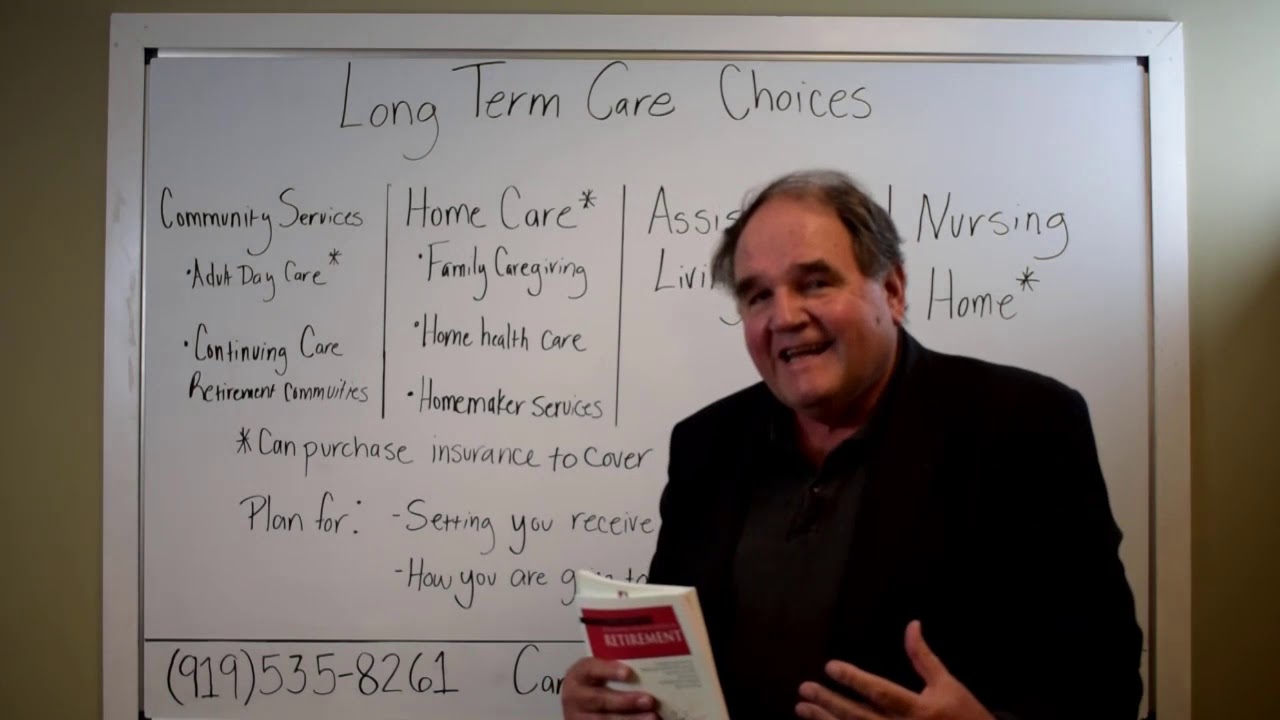 Long Term Care: Types of Care
Long Term Care: Types of Care
Adult Day Care
Adult day care centers help families care for their loved ones while they are still living at home. Usually, the participants either live with an adult child or spouse who works during the day or needs to get out and run errands. It allows the family caregiver to get a break and keep themselves healthy.
Centers usually operate during normal business hours. There are centers that specialize in social interactions, medicare care, and even centers dedicated to Alzheimer's care.
The average cost of adult day care in 2019 is $75/day across the United States. This price can vary dramatically based on location and services offered, but it is going to be less expensive than hiring someone to come into your home or move into a facility.
Medicare will not pay for adult day care services, but some Medicare Advantage (Part C) plans are now including partial coverage.
There are also long term care insurance policies that you can use towards adult day care. Usually these policies are going to pay you a set amount of money for a set amount of time once you cannot perform 2 out of the 6 Activities of Daily Living. Your caregivers can then choose to use this money on adult day care.
Continuing Care Retirement Communities (CCRC)
Continuing Care Retirement Communities, or CCRCs, are retirement communities that allow residents to age in place. They include accommodations for independent living, assisted living, and nursing home care. They are ideal for people who want to age in one place without sacrificing quality of care or freedom.
Almost all CCRCs are going to include common dining areas, activities, and social events. Most also offer homemaker services, such as transportation, housekeeping, and laundry, though this will vary by location.
You must move in when you are healthy and can be in the independent living section of the CCRC.
Every CCRC varies, so it is important to look into what is offered as well as the pay structure. Most are going to require an upfront entrance fee and then a recurring monthly maintenance fee.
Due to this payment structure, it is not really possible to purchase long term care insurance to cover these services. You can look into different financial products, such as annuities, to make sure you will have the money to make the monthly payments throughout your life.
Do thorough research, not only on the cost, but on the environment the CCRC provides and make sure it matches up to your vision for aging.
Family Caregiving
Usually the first step in a home health care plan, family caregiving is care provided at your home by a family member or loved one. This can be full-time, part-time, or whatever works for you and your family.
Many times, family caregiving is used in conjunction with adult day care centers or home health care visits.
There are long term care insurance policies you can purchase to pay your family for caregiving. These policies pay you on an indemnity basis once they verify you cannot perform 2 out of the 6 Activities of Daily Living.
Indemnity means that the policy pays the daily benefit, whether you use it all that day or not. This money can be used to pay for whatever you see fit, including paying you family members. This is great for family members who might not be able to work as much due to caregiving responsibilities.
Home Health Care
Most clients we talk to want to stay at home for as long as possible. Home health care allows for you to not only start your care at home, but also end care at home.
Many services that used to only be performed in hospitals can be done in the comfort of your own home. If you want to maintain the highest level of independence while getting the medical care you need, home health care might be for you.
Home health care services are going to be provided by a nurse, therapist, or home health aid. It can include prescription management, physical therapy, personal care services, and even counseling.
You can choose the frequency and timing of visits which fit into your long term care plan and works with your needs.
Currently, the average cost of professional agency care in the United States is $23/hour or $144/day. Medicare is not going to pay for home health care.
There are many long term care insurance policies that cover home health care services. They are going to vary in price according to how much coverage you want per day and how long you want the policy to last for.
There are even options for pre-paying home health care hours that have less stringent health questions. Whatever your situation, we can help you find the best way to pay for home health care, especially if you are planning ahead.
Homemaker Services
Homemaker service providers assist individuals who cannot perform day-to-day household duties. These services include meal preparation, household chores, and more.
Usually, long term care insurance policies will only cover these services if you also need help with 2 of the 6 Activities of Daily Living. Homemaker services are usually provided in addition to home health care and family caregiving services.
Assisted Living
Assisted living facilities allow residents, who do not need around-the-clock supervision, to live independently while also having access to 24-hour assistance.
These facilities emphasize community involvement and social interactions while also providing assistance with homemaker services, such as laundry and housekeeping. You are allowed to remain in the facility as long as they can provide adequate support to you.
There is a lot of variation between assisted living facilities, not only in the services they provide but also in their payment method and costs. The average cost is $133/day in 2019. Some facilities charge all inclusive monthly fees while others have tiered fees based on the level of services you choose.
While Medicare is not going to pay for assisted living, some long term care insurances will cover the costs of these. If you are interested in this option, make sure to ask a professional about it.
Nursing Home
Usually the last choice for most people, nursing homes are licensed facilities that provide the most comprehensive care for people who can no longer live independently. For some people and some illnesses, the around the clock professional medical care is the only reasonable choice late in life.
Medicare does not pay for nursing homes. Medicaid will, but you lose the choice of where you are put and have to exhaust all your assets before qualifying.
While nursing homes are the most expensive type of long term care, they have also been around for a while, and many insurance policies are designed to cover this care.
The average cost of nursing home care is $280/day in 2019. To cover this cost, you have options. Make sure to explore them before you need the care in order to get the best price you can.
Creating a Plan for Long Term Care
Communication is the key factor when coming up with a plan for long term care. Families need to be involved, so when the time comes, you can have a smooth transition.
It is also important to consult your doctor, who might give you advice on what time of care facility would best suit your health conditions.
There are even geriatric care managers, who are professionals that assist in the decision making process and help you find the best facility in your area to meet your needs.
When a client comes to us wanting a plan for long term care, we look at their preferences, their family situation, and their finances to find the best solution we can. Many times this is an insurance product. While the process of making these end of life care decisions can be hard, it is a huge weight lifted off of clients shoulders once they have a plan in place.