Medicare is a bit of alphabet soup, there are Parts and Plans and they are all named with letters. It can get confusing.
The Medicare Supplement Plan G is currently the most popular Supplement plan on the market. Why? Because it leaves you with almost no bills or fees at the doctor. It is a great plan with great coverage, but that does not mean you don't need to reevaluate your coverage every few years.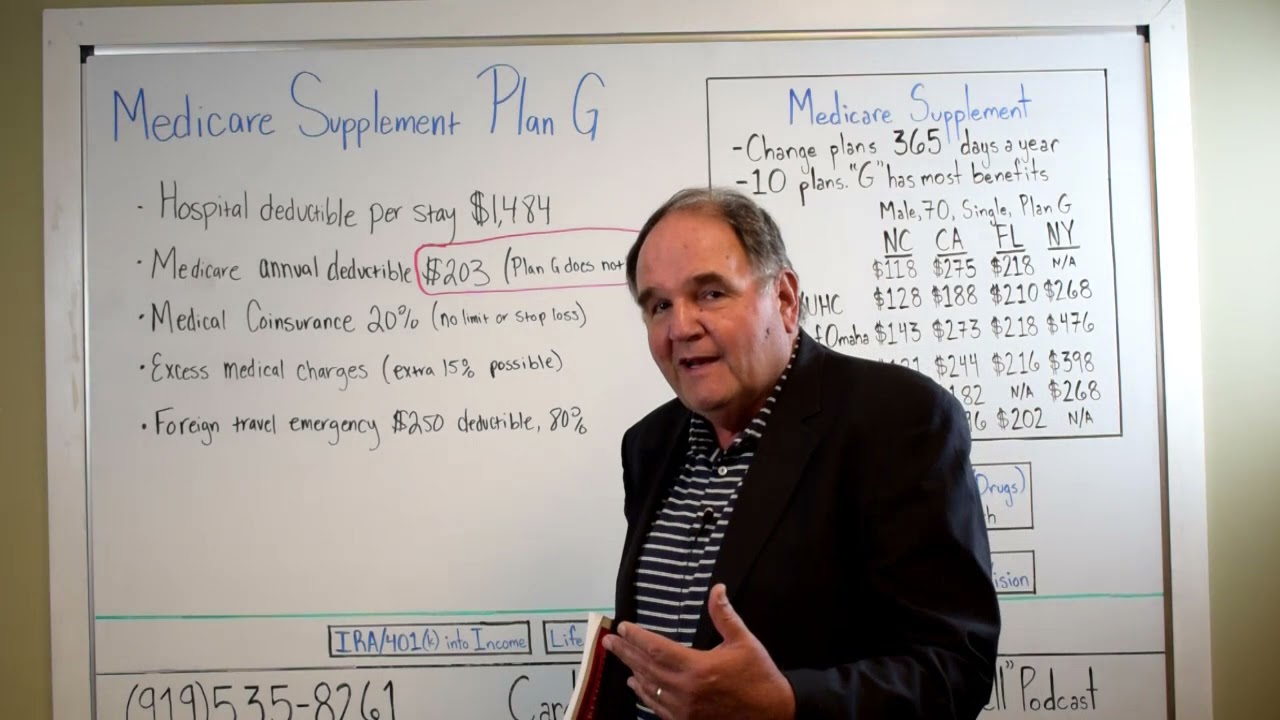 Medicare: Plan G Supplement
Medicare: Plan G Supplement
What is the Medicare Supplement Plan G?
When you stay on Original Medicare, instead of going the Medicare Advantage route, you are going to need insurance to supplement your Medicare coverage.
If you have Original Medicare with no Supplement, you are left with 20% of all your medical bills, uncapped. While this might not seem like much, medical expenses add up quickly. 20% of a $100 bill is no big deal; 20% of a $10,000 bill, or even a $100,000 bill, is.
Medicare Supplements were designed to cover the gaps of Original Medicare.
There are 10 different Medicare Supplement Plans, all named with letters: Plan A, Plan B, Plan C, Plan D, Plan F, Plan G, Plan K, Plan L, Plan M, and Plan N. All these Plans differ in the type of coverage they offer, but they are standardized.
This means once you pick the Plan you want to go with, no matter who you purchase it from, you will receive the exact same coverage. This makes it easy to shop around, as all you need to compare is the price.
What does the Plan G pay for my Medicare?
Plan G currently offers the most comprehensive coverage on the market for those turning 65. The Plan G covers:
Part A Hospital Deductible ( $1484 per stay in 2021)
Medicare Part A charges beneficiaries for each hospital stay in a benefit period. A benefit period begins when you enter the hospital and ends when you have not received any hospital services for 60 consecutive days. This means you could possibly have to pay this deductible multiple times a year. Plan G covers this for every benefit period.
Medical Coinsurance 20% (no limit)
Like we mentioned above, Original Medicare only pays 80% of your bill, you are left with the other 20%. This amount is uncapped, meaning there is no limit to what you can pay. The great thing is that Plan G not only covers this 20%, but it also does not have a limit.
Excess Medical Charges (up to 15%)
When a doctor accepts Medicare but charges more than Medicare's approved amount, this is called excess charges. These doctors are only allowed to overcharge for services by a maximum of 15%. Plan G will cover these charges.
Foreign Travel Emergency
Medicare does not cover most medical services outside the United States. After meeting a $250 yearly deductible, Plan G will cover 80% of the billed charges for certain medically necessary emergency services in foreign countries. This is really great for Medicare beneficiaries who travel a decent amount.
The only bill you are going to have with a Plan G is the Medicare Part B annual deductible of $203 in 2021. After paying this, most beneficiaries will see no bills for the rest of the year for their medical coverage.
If you turned 65 before 2020, the Plan F is still available for you to purchase. Plan F looks exactly like a Plan G except that it covers the Part B deductible. It is typically more expensive than the Plan G, but it does mean no out of pocket costs at all, versus the $203 Plan G requires for the year. Cardinal can help you compare Plan Fs as well if you are interested in getting more information.
Listen to learn more about the Plan G:
How much does a Medicare Supplement Plan G cost?
Medicare Supplement prices vary depending on many factors such as age, gender, zip code, and smoking status. Some companies also offer discounts if you are married or even living with someone.
For this reason, it is hard to give an estimate of what you will pay for a Plan G. The good news is we have a tool that you can plug in your information and it will tell you exactly how much you can expect to pay for a Plan G.
Fill in your zip code, gender, age, and smoking status below and get your quote today!
When should I check up on my Medicare Supplement Plan G?
As you can see, the coverage provided by a Plan G is great. Almost all people who have this plan are very pleased, so pleased they are willing to pay more than they have to.
Many people mistake their love of their Plan for loving the company they purchase it from. The Plan G coverage is actually what they love, and you can get this coverage from any company offering a Plan G.
Medicare Supplements are standardized, meaning every single company selling a Plan G is offering you the exact same coverage. The only difference between the companies is the price.
While we do not always advocate going with the absolutely lowest priced company, company service and name recognition does matter, you do not need to be paying $100-$200 more than necessary a month. Switching companies is a way to keep your same great coverage at a price that is affordable.
We recommend looking into your Plan G, or really any Medicare Supplement plan, every few years as your premium increases. While you do have to answer health questions when applying at a new company for a Supplement, if you work with a broker, like Cardinal, finding a company who will accept you at a lower price is pretty easy, even for those with more serious health conditions.