Many people with serious pre-existing conditions are under the impression that they cannot get life insurance, and that's just not true.
There are many policies that people, especially older people with health issues, can qualify for. The key in getting a life insurance policy is finding the right agent who will get to know you, understand your health history, and place you with the lowest priced company that will accept you.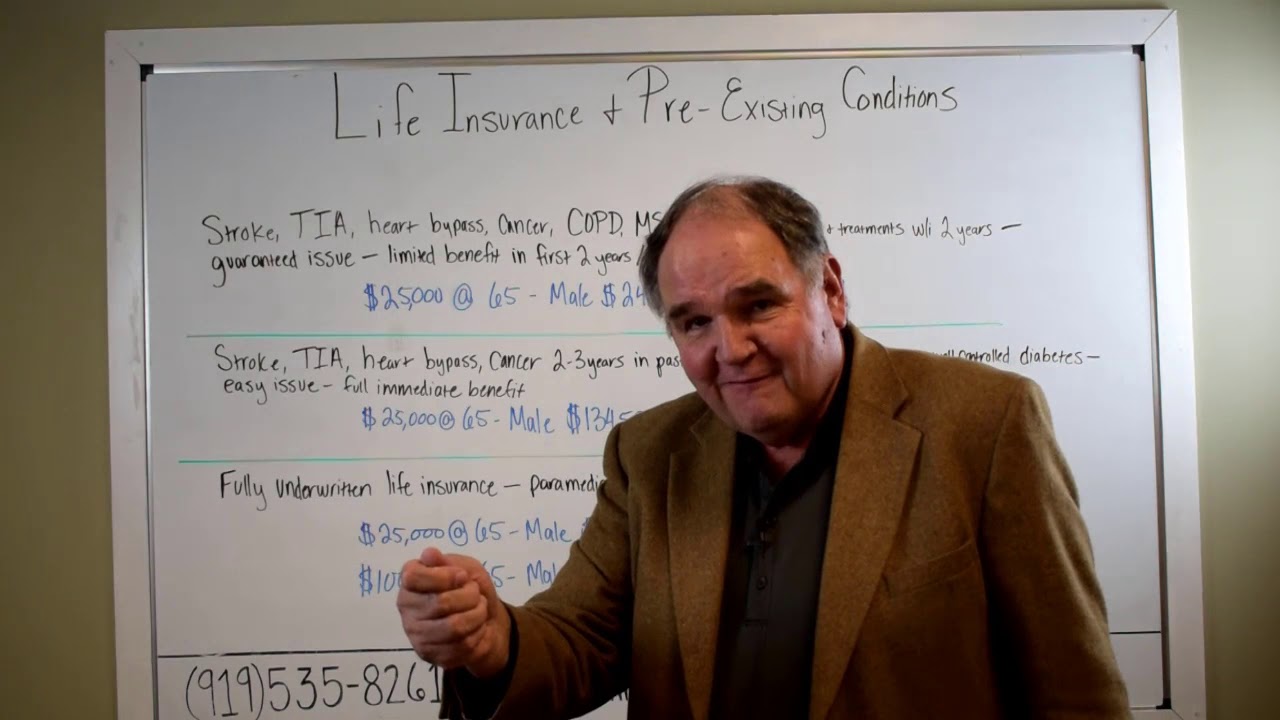 Life Insurance: Pre-Existing Conditons
Life Insurance: Pre-Existing Conditons
Are there life insurance policies I can get with pre-existing conditions?
The answer to this question is yes, absolutely. No matter your pre-existing condition, there is almost always a life insurance policy that will accept you.
Life insurance policies are approved and denied based on health questions. Some require a complete health history, paramedical exam, or a long list of questions about your health conditions .These policies are fully underwritten.
There are some policies that are guaranteed issue, meaning that no health questions are asked at all.
There are many many life insurance policies that are in between fully underwritten and guaranteed issue. The policies are going to ask you some limited health questions but still accept people with many serious pre-existing conditions. All the policies differ, and some will accept people with certain conditions while others don't.
We have many clients that are scared that they will purchase a policy, they will pass away, and the insurance company won't pay out because of their pre-existing condition. Life insurance companies are not allowed to do this; if you are honest with the company when applying they are going to out the benefit.
Below we are going to go over examples of 3 life insurance policies that accept people with pre-existing conditions. We use $25,000 as the benefit amount as this is the minimum amount of life insurance everyone needs in retirement.
If you want more than $25,000, the premium prices will increase. Some policies do not allow for more than a $25,000 life insurance benefit. In this case, we are able to stack multiple policies to get you the benefit amount desired.
There are many more life insurance policies than these 3, but you can use these to get an idea of what is out there. Regardless of your health, there will be a life insurance policy out there for you.
Example Life Insurance Policy 1
This policy, while being the most expensive, is also the easiest to qualify for. This specific policy is a guaranteed issue, meaning there are no health questions, medical exam, or review of your medical records.
We have had clients approved who have had a stroke, TIA, heart bypass, cancer, COPD, MS, and Dementia.
Due to the fact that this policy accepts anyone, there is a waiting period until benefits kick in. If you die within the first 24 month of the policy, your beneficiaries will receive limited benefits. If you pass away in the 25th month or beyond, your beneficiaries will receive the full benefit.
Typically, the limited benefit is going to be the premiums already paid toward the policies plus interest. Your beneficiaries will still receive something.
So how much does this policy cost? If you applied at age 65 for $25,000, the cost is:
Male – $248.84
Female – $182.29
These prices are higher because of the guaranteed issue. For many though, with serious pre-existing conditions, this policy provides them with something they didn't think they'd have: the ability to provide an immediate benefit to their loved ones after their death.
Example Life Insurance Policy 2
In the second example, we ran quotes for a life insurance policy that is easy issue, meaning that while you will have to answer some health questions, they are not very hard.
For example, with this specific policy, those who have had a stroke, TIA, heart bypass, or cancer or have well controlled high blood pressure or well controlled diabetes can get approved.
Since you are answering health questions, the full benefit is paid out immediately; there is no waiting period like the first example.
For this life insurance policy, if you applied at age 65 for $25,000, the cost is:
Male – $134.58
Female – $109.58
As you can see, this policy is more affordable than the first. If you have some pre-existing conditions, there is still a good chance you can get accepted at this lower rate.
Example Life Insurance Policy 3
This policy is the hardest to qualify for as it is fully underwritten and includes a paramedical exam. This means you will either go into a doctors office or a medical professional will come to see you and complete an exam.
While this can sound like a lot, it really is easy, and you can have many pre-existing conditions and still be approved.
After getting approved for the policy, the benefit will be paid out to your heirs immediately, there is no limited benefit period.
This policy rates prices, meaning that if you have some health conditions that would get your rejected from their preferred rate, they could still offer you the policy at a little higher rate. This rate is typically referred to as the standard rate.
For many clients, especially those with serious pre-existing conditions, we find that a standard rated policy is the best deal for them. It is still priced lower than those that are guaranteed issue and it does not have a waiting period.
For this policy, if you applied at age 65 for $25,000, the cost is:
Male – $77.50
Female – $64.50
If you applied at age 65 for $100,000, the cost is:
Male – $252
Female – $210
This is the most affordable policy out of the 3 because of the full underwriting. As you can see in the price differentials, it is worth it to explore your options and use an agent who has multiple options for those with pre-existing conditions. Many people who come to us never believed that they could qualify for a life insurance premium this low due to their health.
Listen to learn more about life insurance with pre-existing conditions:
Why should I have life insurance in retirement?
When we are talking to clients about life insurance, we are talking to them about the position their spouse and family will be in 3 weeks after they pass. There will be funeral costs, continuing bills, and other expenses that need to be dealt with immediately.
While you might have money in savings or retirement accounts, this money can take a lot of time to be distributed to the correct parties after death. Life insurance benefits are paid out immediately. They skip lawyers and avoid probate. A check is just sent directly to the named beneficiary.
The beneficiaries do not just have to be spouses or children. We help clients get policies with their grandchildren, niences, nephews, friends, or even churches or other nonprofit organizations as the beneficiaries.
Having life insurance allows you to dictate exactly who you want to receive money after you pass.
Life insurance is critical to your family, critical to your legacy, and critical to you if purchasing on your spouse. Do not let the fear of pre-existing conditions keep you from looking at your options. Cardinal is here to help!