In retirement, you are transitioning to a new phase of life. Your need for life insurance will be transitioning as well as you go from the working and family rearing years to the empty nest years.
You need life insurance no matter what phase you are in, even if it is a small amount, to protect your family. We're going over what type of life insurance will best fit the phase of life you are in during retirement!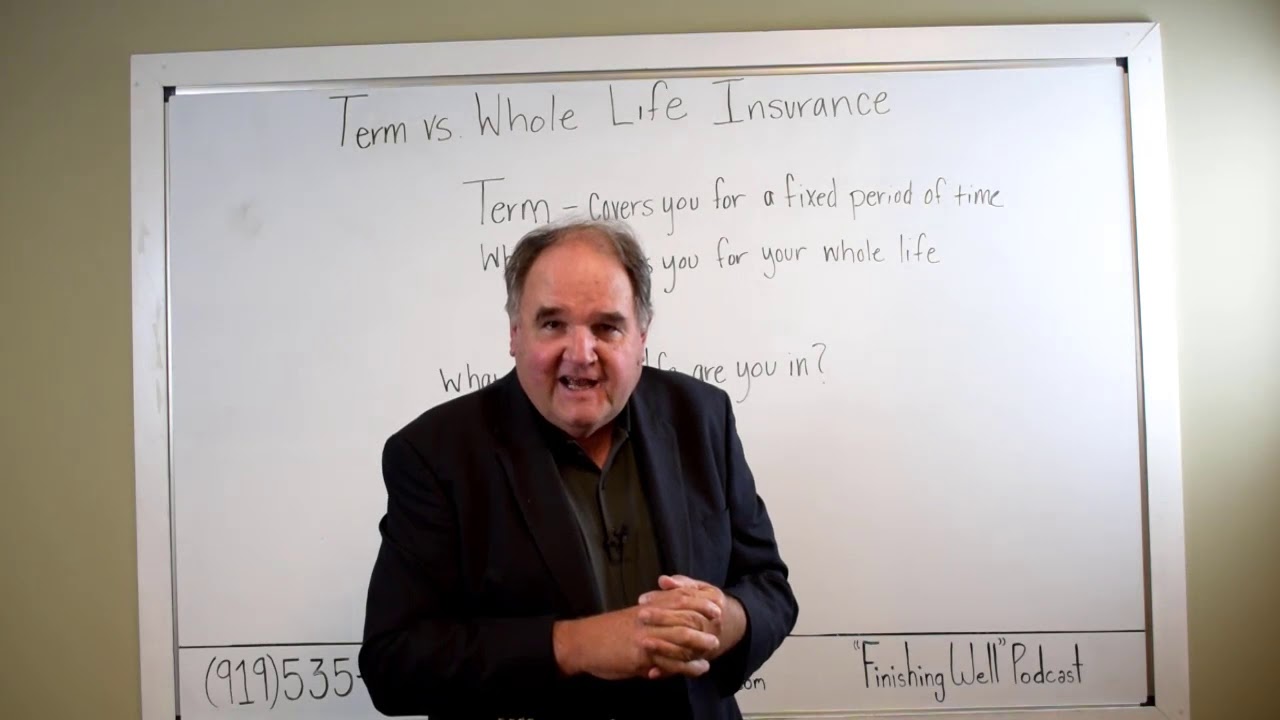 Life Insurance: Term vs. Whole in Retirement
Life Insurance: Term vs. Whole in Retirement
Term life insurance summarized
Term life insurance is going to cover you for a fixed period of time. You can buy, for example, a 10-year term, 20-year term, 30-year term, that will cover you for that time period.
With term life insurance, you can purchase a lot of coverage at an inexpensive price.
This is due to the fact that most policy holders are not going to claim these policies, as they outlive the term. Currently, around 1-2% of term life insurance actually results in a claim.
Even though the likelihood of you claiming on a term policy is low, they still work really great when you are young, working, and raising children with a mortgage and bills to pay.
They are affordable enough for you to purchase the correct amount to cover everything your loved ones would need in case you were to pass.
A unique factor with term life insurance is that some policies are convertible. The means you can choose to convert the term policy into a policy that will last the rest of your life.
There are some companies and policies that are going to be better to purchase from if you are looking for a convertible term policy. You want a company that also has competitive options for whole life insurance that you would be converting too.
But what is whole life insurance?
Whole life insurance summarized
Whole life insurance is basically any life insurance that does not have a term attached to it.
Whole life insurance is going to cover you for your entire (or whole) life. You cannot outlive this policy.
Many whole life policies will even offer a "cash value", which can be a really useful savings tool in retirement, allowing tax-free loans or withdrawals of basis.
Other whole life insurance policies are paired with long term care insurance, called hybrid long term care insurance, so that you can access life insurance benefits early if you need long term care.
There are many types of whole life policies, and many offer additional benefits, such as the above. The one aspect they all share is that lifetime coverage.
Due to the lifetime coverage, whole life policies are more expensive than term. Depending on the policy, they might also have more stringent health questions to qualify for the policy.
Like term though, the younger you buy the policy, the more affordable it is going to be.
Listen to learn more about life insurance:
Life insurance in retirement – What phase of life are you in?
Many people come to us when they are nearing retirement and the term policy they bought when they were younger is expiring. They don't know if they should get another term policy, a whole life policy, or even get life insurance at all.
We always start by explaining why we think all retirees need at least $25,000 in life insurance coverage.
We go into more detail here, but to summarize, there are funeral and estate settling costs that will need to be paid immediately after someone passes. Even if you have that money in a bank account, savings account, or retirement account, it could take your loved ones months to actually gain access to this money.
Life insurance makes sure they have the resources they need right away to cover these costs.
This $25,000 is just a minimum though, many people in retirement are going to need, or want, more coverage.
We have many clients who want to make sure their spouse is taken care of or that their children are left an inheritance. We have people in second marriages, with separate children, who want to leave smaller policies to each of their kids. Some people even want to buy a larger policy to leave to a charity.
For these people, more than $25,000 is going to be appropriate.
At Cardinal, we will examine your needs, wants, and financial situation and figure out what type of policy you should purchase.
Term insurance is just not going to work for most in the retirement phase of life. It gets much more expensive when you get older, and there is no guarantee that you will not outlive the term.
For almost all clients, we are going to recommend some type of whole life insurance to guarantee a payment when they pass.
For retirees whose term is expiring, we will look to see if this insurance is convertible to whole life, and if so, if that is the best deal. Especially if they have some pretty serious health conditions, converting term life insurance to whole can be the best deal as they might not have to answer health questions.
We will look into other whole life insurance products, maybe some with extra benefits, such a long term care insurance, to meet some of their other needs in retirement.
No matter your situation though, there is a life insurance solution for the phase of life you are currently in. Make sure to work with a broker who can offer you multiple companies and products to find the appropriate product for you.